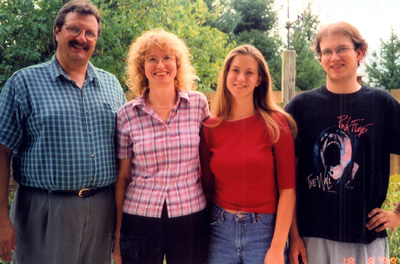 Since November 2010, Martha and Rick have been talking to groups of high school students at Allegan County, Michigan high schools about healthy dating relationships, the warning signs of dating abuse, and what happened to their daughter, Maggie, who was murdered by her ex-boyfriend on the campus of Kalamazoo College in October of 1999.
So far, we have talked to groups of students the past two school years at Plainwell High School, where Maggie graduated in 1998, and also in 2010 at Wayland High School. The groups consisted of junior students who are working in a post-secondary planning class as they work towards their graduation goals. We have also talked to the PAL (Peer Assistance and Leadership) Students in Plainwell, Wayland and other Allegan County areas.
In the course of these discussions, we have talked at length about Maggie's dangerous relationship that led to her death and the warning signs that were missed in her case. We discuss emails and IM (Instant Messaging) communications, as the social networking of her day, and the role they played in the controlling relationship that Neenef established over a few months.
We discuss signs of healthy relationships versus warning signs of abusive relationships, using materials from the Break the Cycle website and Love is Not Abuse/Liz Claiborne website and the Red Flag Campaign of the Virginia Sexual and Domestic Violence Action Alliance.
We cite statistics from the National Center for Victims of Crime, regarding teen dating violence and college campus dating violence.
We end by giving participants a list of the websites we have used, and cited above, as well as contact numbers for national and local crisis lines for dating/domestic violence matters and also for suicide prevention.
We are more convinced than ever this is the right approach to honor Maggie appropriately. It is essential to help other young people learn to have healthy relationships and to recognize danger signs in their relationships or those of other young people they know. They also need to know they have to speak up when others are in danger and get help for them. There is not enough time in a school day or money in school programs to meet these needs for young people and more needs to be done. That is what we are trying to do.
Rick and Martha Omilian
martha@rememberingmaggie.org
rick@rememberingmaggie.org
Files We Use in our Workshops