Violence against women is a men's issue – plain and simple.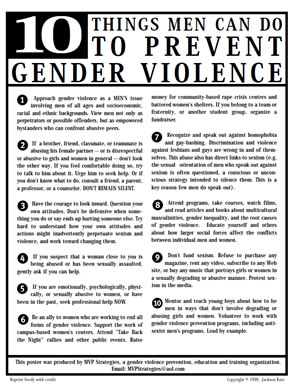 We, as men, have the power to stop the violence. Some men will attempt to argue and point to aggression of some women as an argument. Others will attempt to point out behaviors by women which, they say, can lead them to be victims of violence. Or they will try to differentiate between the types of violence committed against women, to downplay its prevalence.
When we look at the preponderance of violence against women committed by men in the US and the world, and weigh the intensity and deadliness of that violence by men against women, it is clear that violence against women is, hands-down, most violently, a men's issue. We continue to let happen, either perpetrated by ourselves or by the men around us, whom we choose not to stop.
When I attend meetings and workshops with Martha around the topic of dating and domestic violence, I am most often the only man present. When I am at a gathering that is protesting/discussing violence against women and access to guns in our society, there are more men at these events. However, except for myself and a few other men, it seems the rest of the men, and a few women, are likely open-carrying guns and holding signs and chanting about their Second Amendment rights.
How very sad that we men care more about protecting guns, than protecting the women around us by ending violence against women. I cry for Maggie and the other women whose stories I have heard or read about EVERY DAY since October 18, 1999.
There are many men around us who are willing to talk about violence against women as a men's issue. Are we strong enough to join them?
In over 90% of cases of domestic/dating violence, a male intimate partner is the abuser.
For female rape survivors, 98.1% of the time a man was the perpetrator (Black, Basile, Breiding, Smith, Walters, & Merrick, 2011).
For male rape survivors, 93% of the time, a man was the perpetrator (Black, Basile, Breiding, Smith, Walters, & Merrick, 2011).
---
These are national programs trying to address this problem by encouraging men to be engaged bystanders when they witness violence against women.
---
Reference
Black, M.C., Basile, K.C., Breiding, M.J., Smith, S.G., Walters, M.L., Merrick, M.T., Chen, J., &  Stevens, M.R. (2011). The National Intimate Partner and Sexual Violence Survey (NISVS): 2010 Summary Report. Atlanta, GA: National Center for Injury Prevention and Control, Centers for Disease Control and Prevention.