One in four dating teens is abused or harassed online or through texts by their partners.
Each generation of teens face pressures in growing up. They want to fit in, have friendships, feel safe and not bullied or scorned, and want to be treated as adults as soon as possible. The current generation of teens face a complex set of challenges and opportunities which are enhanced by technology and intensified by access to social media. Situations which used to be private and contained can now result in being broadcast virally.
Since Maggie died, we have become aware that many teens are not always aware of the characteristics of healthy relationships and the warning signs of dating violence.
Dating abuse is defined as a pattern of destructive behaviors used to exert power and control over a dating partner.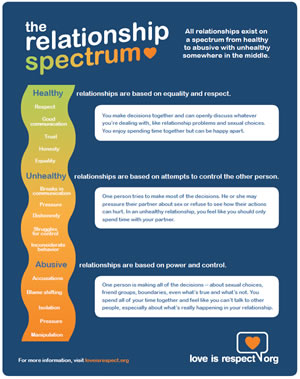 One in three teens in the US is a victim of physical, emotional, or verbal abuse from a dating partner, far exceeding the rates of other types of teen violence.
Victims of teen dating violence, whether male or female, are at increased risk of mood and behavior problems as young adults, and at increased risk for future violent relationships.
Females from the ages of 16 to 24 experience the highest rate of intimate partner violence, almost triple the national average.
One in five dating males report they are victims of verbal or emotional abuse by their dating partner.
Violent behavior often begins between the ages of 12 and 17
Nearly three in four tweens (72%) say dating relationships begin by age 14.
Only 33% victims of dating abuse ever tell anyone about it. Those who do tell, usually tell a peer only, not a parent or other adult
One in five teen girls and one in ten younger teen girls (13 to 16) have electronically sent or
posted nude or semi-nude photos or videos of themselves. Even more teen girls, 37 percent,
have sent or posted sexually suggestive text, email or IM (instant messages).
More than half of teen girls (51 percent) say pressure from a guy is a reason girls send sexy
messages or images, while only 18 percent of teen boys say pressure from a girl is a reason.
Twelve percent of teen girls who have sent sexually suggestive messages or images say they
felt "pressured" to do so.
One in five tweens – age 11 to 14 – say their friends are victims of dating violence and nearly
half who are in relationships know friends who are verbally abused. Two in five of the
youngest tweens, ages 11 and 12, report that their friends are victims of verbal abuse in
relationships.
Recognize the Warning Signs
Dating abuse can happen to females or males, regardless of race, culture, wealth, or area in which you live. It knows no limits.
Checking cell phones, emails or social networks without permission
Excessive texting to check where you are, who you are with, what you are doing
Constantly putting you down
Extreme jealousy or insecurity
Explosive temper
Isolating you from family or friends
NONE of these behaviors are a sign of the abuser's love for the victim.  Click to Learn More > >

How to Help Yourself & Others